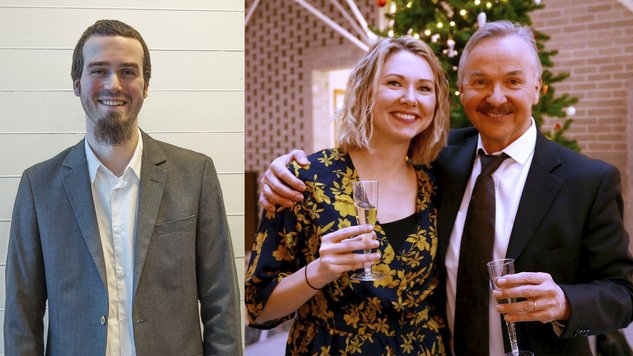 Two of our students
Ragnhild Aven Svalheim and Jesse Brinkhof are two of CRISP's PhD-students who have recently defended their dissertation.
Publisert 20.05.2019 - Oppdatert 20.05.2019
Ragnhild Aven Svalheim was employed as PhD student by UiT and Nofima from 2013. Her PhD project focused on how muscles of captured fish restore during the post capture phase (WP5). She finalized her project and delivered her thesis autumn 2018 and successfully held her defense in December 12th 2018. Dr. Petri Suuronen, who accompanies Ragnhild in the photo, was her first opponent and is also member of CRISP's Scientific Advisory Committee. Ragnhild is now employed as researcher at Nofima.
Jesse Brinkhof, studied the consequences of different trawl innovations on catch quality (WP 4 and 5) of whitefish. Jesse was supported financially by University of Tromsø, and had supervisors from UiT, Nofima and IMR to assure successful progress in his multidisciplinary study. Jesse delivered his thesis late fall 2018 and defended his work successfully February 14th 2019.